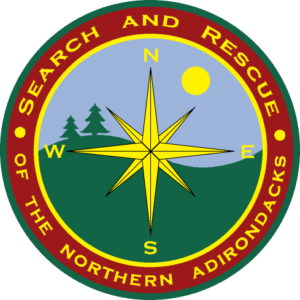 Search and Rescue of the Northern Adirondacks is an all-volunteer search and rescue organization based in Saranac Lake, primarily serving the Upstate New York region.
SARNAK works closely with the New York State Department of Environmental Conservation, NYS Forest Rangers and other law enforcement agencies and emergency response organizations to provide assistance during backcountry emergencies.
SARNAK volunteers reinforce their search and rescue skills through monthly trainings and experiential training exercises. Members are required to maintain good physical fitness and minimum medical certifications.
SARNAK members assist emergency response organizations in searches, administering first aid and evacuating lost, stranded, sick and injured people.
To learn more about becoming a SARNAK member, visit the Membership page.
To help support SARNAK training efforts, expenses and equipment purchases, please mail your tax-deductible donation to:
Search and Rescue of the Northern Adirondacks, PO Box 1116, Saranac Lake, NY 12983
Or use the secure donation button at the bottom of this page.